Numerosas investigaciones han demostrado que el chat en vivo se ha convertido y sigue siendo el canal más popular de comunicación digital con los clientes. También es una de las herramientas más flexibles que puede usar en tu web para una gran variedad de propósitos, desde soporte al cliente hasta ventas proactivas y marketing . Los siguientes ejemplos probados de scripts de chat en vivo listos para usar (respuestas predefinidas) para los escenarios de chat en vivo más comunes ayudarán a sus agentes a: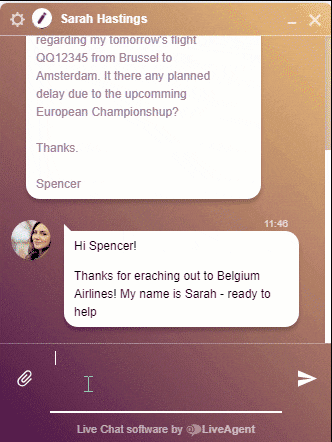 Ofrecer respuestas más rápidas al conversar con visitantes y clientes;
Evite escribir los mismos mensajes una y otra vez y aumente la eficiencia;
Interactuar con varios visitantes simultáneamente sin comprometer la prestación del servicio;
Mantener el tono correcto del lenguaje y transmitir un mensaje de marca coherente;
Ofrecer soporte al cliente oportuno y mejorar la satisfacción del cliente;
Aumentar las conversiones dirigiéndose de manera proactiva a los prospectos en páginas específicas de la web.
Iniciar un chat
Saludos comunes
Saludos para los visitantes habituales
Un cliente contactó a la compañía equivocada
Invitaciones de chat proactivas
Visitantes que regresan
Visitantes inactivos
Página de precios / pago
Ventas proactivas
Solicitar información adicional
Solicitar información general
Verificar tu comprensión
Poner en espera
En cola
En medio de una sesión de chat
Reanudar una sesión de chat
Transferir un chat
Gestionar reclamaciones
Disculparse por un problema
No se puede cumplir con una solicitud
Terminando un chat
Agradeciendo a un cliente
Cuando un visitante no responde
Ready to try our live chat templates?
LiveAgent is the fastest and leanest live chat solution on the market. Try it today with our free 14-day trial. No credit card required.
Free Trial